WHEN the news broke in January that a Malaysian company was involved in bringing the works of popular British author Douglas Adams (1952 – 2001) to the small screen, most Malaysians just shrugged it off.
Part of the sanguinity came from the fact that things have been looking up for the country's creative content and film industry, what with a slew of local movies having impressed at the box-office and with hoary old critics, and government bodies like National Film Development Corporation Malaysia (Finas) and Malaysia Digital Economy Corporation (MDEC) having stepped up their game in recent years.
 
Part of it also came from the fact that Malaysia's film industry, at least in terms of the wider world, is still in its infancy. Except for select arthouse movies, most films are produced for domestic consumption, while most of our contributions to the international scene have involved outsourcing work – post-production, special effects and animation – for the big studios 'out there.'
 
It was probably with this mindset that most of us greeted the news that Malaysian-based content company Ideate Media was teaming up with AMC Studios, IDW Entertainment, and Circle of Confusion to produce eight one-hour episodes of Dirk Gently's Holistic Detective Agency, a new original scripted series for BBC America.
 
The official spiel is that "Dirk Gently is a comedic thriller that follows the bizarre adventures of an eccentric and 'holistic' detective named Dirk Gently and his reluctant assistant Todd as they go about their way through one big, seemingly insane journey, crossing unlikely paths with a bevy of wild and sometimes dangerous characters," with each episode bringing them a few random steps "closer to uncovering the truth."
 
AMC Studios is behind The Waking Dead, Breaking Bad and Mad Men; while IDW Entertainment is the entertainment arm of the fourth largest comics publisher in the United States; Circle of Confusion is the producer of The Waking Dead; and finally, Dirk Gently's Holistic Detective Agency and its sequel The Long Dark Tea-Time of the Soul were penned by Adams – less well-known than his iconic The Hitchhiker's Guide to the Galaxy, but with a strong cult following nonetheless.
 
With such exalted company, many must have first thought – including this writer – that the Malaysian company involved would just be outsourced some work, or is putting in some small investment.
 
We – and I – couldn't have been more wrong. Ideate Media is actually the driver behind the entire effort, in terms of getting the whole project off the ground, and in developing the content in partnership with IDW.
 
It is the culmination of Ideate Media's three-year-journey that began with chief executive officer Zainir Aminullah's frustration.

Missing the middle piece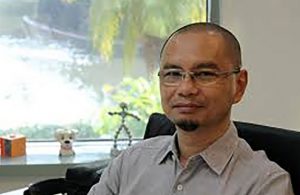 Zainir (pic above) had spent 17 years at pay-TV operator Astro Malaysia Holdings Bhd, where a large part of his career was running its content business.
 
"When I was first given that task, we grew the number of local channels very rapidly and came out with all these crazy shows – Akademia Fantasia, Raja Lawak and others," he says.
 
These shows showed what he describes as "a linear correlation between content investment and subscription hook, and a linear correlation between investment and reconnection (or churn).
 
"That gave us [Astro] the confidence to invest more – in more channels, more brands, and more shows," he says, speaking to Digital News Asia (DNA) in Kuala Lumpur.
 
That also gave Astro the confidence to start diversifying into more genres – news, sports, kids' shows, and more vernacular languages.
 
"Over time, all these became so successful that it became an expected delivery," says Zainir.
 
"I continued doing that for a while, but towards the end of that term, I quickly realised that despite the dozens of thousands of hours we had produced back then, not a lot travelled – or rather, they didn't travel well at all.
 
"For a very specific reason: They were all for local consumption, and they were all designed with a specific domestic sensibility, appeal, taste and preference in mind, so you would not have expected them to travel.
 
"But Ideate Media came out of that frustration – I guess it's good when a solution comes out from a hunger or desperation," he laughs.
 
Ideate Media was established in April 2013 by Khazanah Nasional Bhd, the Malaysian Government's strategic investment arm; and Astro Overseas Limited, the international division of Zainir's former employer.
 
Its first production was Bubble Bath Bay, a children's animated series commissioned by the Australian Broadcasting Corporation.
 
But relatively speaking, that was just the company poking its toe into the waters. Its vision is much bolder, to say the least.
 
Malaysia has been trying hard to promote itself as a creative content destination. MDEC, the country's national ICT custodian has been doing it since its inception in the late 1990s, with a more high-tech outlook that paved the way for animation, special effects and games development work.
 
Finas, for so long focused inwards, in 2013 introduced the Film in Malaysia Incentive, which offers a 30% cash rebate for production or post-production work done in the country; while other government efforts have seen Pinewood Studios opening a facility in the Iskandar Malaysia development zone in the southern state of Johor.
Avoiding the void
These are laudable developments, but there are still missing pieces in the industry, and Ideate Media intends to fill what Zainir describes as "a huge gaping hole" – developing content, and doing it for the greater audience out there.
It starts with Malaysia's aspiration of wanting to be a creative content destination.
 
"I wanted to see if we could invest in proper development, so that we could actually invest in our own ideas and intellectual properties (IPs) that are designed for international markets – that are designed for an international audience with or without Malaysia, and with or without South-East Asia in mind," he says.
 
"So that was our starting statement: Wanting to make sure we could lift the bar and develop a different kind of content," he says.
 
What government bodies like Finas and MDEC have been doing well is getting creative content jobs into the country, which has allowed dozens of such Malaysian companies to scale up and upskill themselves.
 
"But if you look at the output, it comes back to my frustration – you don't own the property, you're basically a work-for-hire for others like the Cartoon Network, Disney and Nickelodeon," vents Zainir.
 
"So in the end, you get the job and you get the hours, but you get nothing. Your business is basically margins-based, and what you worry about is cash-flow and scaling up – that is, getting more customers from Japan, North America and South Korea.
 
"This is fine for a business, but then you start asking: What's our identity? What stories do we tell? And you can't answer that question," he adds.
 
The "huge gaping hole" is essentially the lack of our own content.
 
"If you look at the entire process, you start with the ideas or content, then there is the middle part which is production, and then there is monetisation, which is sales and distribution," says Zainir.
 
Malaysia and most of the region is right smack in the middle of that cycle, production. It needs to get into the other two parts as well.
 
"We believe that you must put the right investment in the right stage of that process, to be able to achieve two things: No 1, to be able to influence the outcome of the investment (the IP); and No 2, to be able to influence the marketing.
 
"And how are we doing this? By putting our own money behind stories and ideas – we actively go out there and source for materials, for example options for books and all.
 
"This is a huge gaping hole, simply because we are not developing for an audience. And I don't say this lightly. Even if you are doing it for a local audience, you need to have a very specific target in mind – whether it is a broadcaster, or a market.
 
"If you go out there with a vanity project, that's fine, but these guys are going to ask your some serious questions: Who are the writers? Who else is attached to this project?
 
"The developed markets care about attachments – they want to know all the elements of the show: Who are the writers, who are the producers, who are the directors, who is being cast?
 
"If you don't think along those lines, you won't ever get their attention. It's not enough to have what you think is a great idea. You may have a great story, I may even go watch the movie, but I would not represent you if you can't find a market.
 
"We [Ideate Media] are doing that now," he adds.
 
So over the past three years, the company has been building up its resources in content development – content that is specific to a broadcaster and to a market – and making use of its access to the networks and connections that comes from Zainir's years at Astro, as well as via his team.
 
"To me, Ideate is that secret sauce and the black box in the middle. We basically marry the creative to the commercial. That's it.
 
"A story will never see the light of day unless someone connects you to a market – a distributor who is willing to pay, and a broadcaster who is willing to underwrite your production budget.
 
"That's what we do," he adds.
The other pieces
But that's not all Ideate Media does. There are other "streams," as Zainir puts it.
The first is creating English content for the pan-Asian broadcasters that are present in more than one market in the region.
 
"These broadcasters are finding out that their own investments are out-rating the Hollywood shows – one good example is HBO's Half-Worlds," he says.
 
"This is very exciting because it is content that we know will travel, and have a footprint outside Malaysia.
 
"And there's a decent budget that allows us to be more liberal, creatively, in terms of story concepts and setting – you can dive into the slightly retro, or historical pieces, or epic dramas, because of the money," he says.
 
Another stream is creating content in local languages for other markets – but with a bold twist.
 
"Here, my struggle has been what space to play in – there is no point my doing what other broadcasters are doing. They are doing a fairly good job," says Zainir. "I struggled for a whole to find the right space for us to focus on."
 
But find it he did. Ideate Media has also spent the last three years investing in local IPs. Working with Malay-language publisher Karangkraf Media Group – which produces books, a slew of magazines, and the popular daily Sinar Harian – it has bought the rights to Malaysian author Ramlee Awang Murshid who has written more than half a dozen books spanning science fiction and crime-thrillers.
 
Ramlee has created a group of characters who are not quite superheroes, but as with the now-defunct NBC seriesHeroes, have certain unique abilities that are more science fiction in nature.
 
"These are great ideas that we want to develop into a shared universe or franchise," says Zainir.
 
"We've invested quite a bit of money to work with a Hollywood studio to help us design this universe. Out of this strategy will come a few rollouts.
 
"For example, characters who will appear in feature films in Malaysia; while I've been in discussions with writers and producers in Indonesia for a different character and a different story set; and there is another story that we're discussing with a Japanese company as well – all coming out of this single universe.
 
"So the big vision is rolling out a stream of products – whether feature films, TV shows, animated shows, comics, mobile products – for various markets, stories that will appeal only to that market, but which we can ultimately combine," he adds.
 
And of course, there will be merchandising opportunities too. "I think different stories lend themselves to different merchandising ideas – this one's a bit edgier, so no cuddly toys, but definitely merchandising is in there," says Zainir.
The write stuff
Of course, this makes it all sound easy in retrospect, but even with the financial muscle of Khazanah and Astro behind it, Ideate Media faced many challenges.
 
Many of these challenges stemmed from the fact that there are still missing pieces in the creative content industry in Malaysia: Lawyers who understood this kind of IP, accountants who can handle large production budgets, and so on – standard jobs in Hollywood, missing in Malaysia.
 
Then there is of course the challenge of finding writers.
 
"When we speak to these broadcasters [in developed markets], they will ask a simple question: Do we have the writers here who can deal with the very technical parts of creative writing?" says Zainir.
 
"People think writing is all about the idea. It is not. It is largely that, but also important are the structure, the evolution of the storyboard and characters, and so on.
 
"That discussion is very technical and very specific, and so do we have enough writers who have that sensibility, and who understand what it takes to complete the development process that appeals to the people you want to sell or pitch your idea to?" he adds.
 
It turns out that there are Malaysians who can do the job. Over the years, many have gone to the right schools and done the right courses in film studies and creative writing. But the problem is, many come back to Malaysia to find that there are no jobs for them.
 
"Because they have to pay the rent, they get absorbed into the ecosystem and they basically get accustomed to one way of doing it," says Zainir.
 
"So yes, the confession is that it's been a struggle to find a good bunch of people, but I'm also happy because we havefound this good bunch of writers who can deal with expectations, and what we want to do is make sure they are close to us, and from there, we can grow the inner circle," he says.
 
This goes back to growing the ecosystem, a challenge not just for the Government, but also for the industry players which will need to step up.
 
"There are two ways to do this: Put in a lot of money, as Hong Kong did in the 1970s, and they basically had an industry just about overnight," says Zainir.
 
"Do we do that, or do we grow organically? I think with a clever collaboration of public money from institutions like Finas and private money from people like us, we can address the specific gaps," he adds.
Do go Gently into that …
Dirk Gently's Holistic Detective Agency went into production in May, with Max Landis of Chronicle and American Ultrasfame as writer; starring Samuel Barnett (Twelfth Night and Penny Dreadful) in the lead role, and Elijah Wood (The Lord of the Rings) in the co-lead role of Todd, Dirk's assistant.
 
That should get everyone's attention: This is a bona fide big-time production.
 
But why Dirk Gently? Quirky and weird, not easily brought to the screen, big or small, and already suffering from a failed attempt as a British TV series on ITV from 2010 to 2012?
 
"Well, there is always a personal agenda – but this one's not mine," chuckles Zainir.
 
In fact, he readily acknowledges that the driving force behind this is Arvind Ethan David, head of Ideate Media's Los Angeles (LA) operations – the company has 13 people in its Kuala Lumpur team, and three in LA.
 
According to Ideate Media, Arvind has a 15-year track record as a producer, media executive and entrepreneur in the United Kingdom and the United States. From 2006-2011, he ran Slingshot, the British film production and financing business that he founded with leading European venture capital firm Arts Alliance. Slingshot lead-produced and financed five feature films, including the comedy hit The Infidel.
 
It goes back to when Arvind was studying in the United Kingdom – he is a qualified solicitor with an MA in Jurisprudence from Oxford University and an MBA from the London Business School – and did a Dirk Gently school play.
 
"It was Arvind's childhood passion, and Douglas Adams actually attended the play, and that's how Arvind got to know Adams.
 
"So three years ago, we – Ideate Media and IDW – approached the Adams estate because the IP was incumbent. We had to unlock the IP … and we did that. We acquired the option directly from the Adams estate, and convinced them that we could make something out of it.
 
"But I think the fact that Arvind has had that passion for a long time helped us.
 
"Together with IDW, we found Max Landis to write the pilot script and the series bible, and at the same time, we were developing the comic because it was intended to be the run-up to the TV series," he adds.
 
The first comic, Dirk Gently's Holistic Detective Agency was released in May last year, written by IDW's Chris Ryall (Zombies vs Robots, Groom Lake, and The Hollows) with art by Tony Akins (Fables).
 
In February, IDW also released Dirk Gently's Holistic Detective Agency: A Spoon Too Short, inspired by the alternative title for the book Adams was working on before his death, but which he never completed.
 
This one was written by Arvind (pic) himself, along with Landis and artist Ilias Kyriazis.
 
Meanwhile, the target release date for the TV series is the end of this year, or early next year at the latest.
 
According to Zainir, BBC America holds the right for the United States, but Ideate Media and AMC Studios hold the rights for the rest of the world.
 
"That's a perfect example of our approach: You start with the passion, then you get the IP – we spent a lot of time unlocking it – and we spent the early development money to get the writer, spent the right development time (about a year and a half) to get the pilot script and series bible done.
 
"Then we were able to show it to four interested broadcasters, and eventually BBC America picked it up.
 
"But because it was our IP and our development money – together with IDW – we were able to get a seat at the table with the big guys," he adds.
Link to original article on Digital News Asia here. https://www.digitalnewsasia.com/digital-economy/ideate-media-out-fill-huge-gaping-hole-help-douglas-adams